President of LAVES – Prof. Dr. Eberhard Haunhorst
The Lower Saxony State Office for Consumer Protection and Food Safety (LAVES) established in July 2001 is headed.by Prof. Dr. Eberhard Haunhorst who has been its president since 1 February 2002. He has more than 20 years` experience in public veterinary affairs and food monitoring.
After studying veterinary medicine at the Free University of Berlin Prof. Dr. Haunhorst worked as veterinary officer for the public veterinary services in the district Tiergarten of Berlin from 1988 - 1993. In 1990 he was awarded the academic title of Specialist for Veterinary Public Health Services. From 1993 to 1995 he held the post as consultant for food and meat hygiene at the Senator for Health in Bremen and in the years 1996 to 2001 he was director of food control, animal welfare and veterinary service in the State of Bremen.
In April 2009, the University of Veterinary Medicine Hannover (TiHo) appointed Dr. Eberhard Haunhorst as an honorary professor. He represents the field "Veterinary Public Health" at the TiHo and is a full member of the virtual Centre for Animal Health and Food Quality.
Prof. Haunhorst represents LAVES on important committees and advisory boards (e.g. the Advisory Board for Health Consumer Protection, the Directors' Conference for the performance of official investigations in northern Germany (NOKO)). As an internationally recognised expert on matters of food safety, consumer protection and public veterinary services, he is a member of numerous commissions and committees (eg. Chairman of the Standards Committee for Food Hygiene in the German Institute for Standardisation (DIN)).
Prof. Haunhorst acts as a consultant at national and international events, is an author and editor of the specialist journal "Journal of Food Safety and Food Quality".
On behalf of the German Federal government, as project manager he coordinates various EU projects for establishing veterinary administration in new EU Member States –and partner countries.
Prof. Dr. Haunhorst is 60 years old, married and has six children.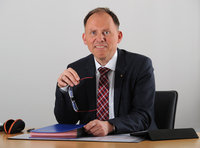 President Prof. Dr. Eberhard Haunhorst